I have always considered myself lucky for being a Middle East Technical University (ODTU) graduate. Although they included many sleepless nights, lots of stress, tears and sweat, my school years were also so much fun. Being one of the best universities in Turkey and maybe the best technical one, ODTU has special significance. In addition to being a university that accepts only the top 3% of the potential candidates, it also has a tough curriculum, difficult professors and demanding lab or project hours.
But for somebody, ODTU is even more valuable and important…
Cats.
In every cafeteria or classroom, it is very usual to see a cat roaming around, sleeping or looking for food. Many compassionate ODTU students will happily feed them, play with them and care for them. They will even name them. Like this one:
Meet Pakize, the cat of Faculty of Economics and Administrative Sciences.
Now she will walk you through the beautiful ODTU campus and share all the campus secrets with you 🙂 Enjoy!
"Meow! My name is Pakize. I speak English very well because the education language is in English here and I go into every class, well… In some of them I am not awake, but I picked up English here and there. Let's cut the crap, here we go. First thing first, this is glorious me:"
"They have recently elected me as the ambassadors of the ODTU cats. It has been an honor, I should admit. As the ambassador, it's my duty to introduce this university to you. I have been literally everywhere on this campus in and out. So, trust me when I say I know what I'm talking about. Another reason why you should take me seriously: I have my own Twitter account and I can respond to Trump about cat rights if I want to!"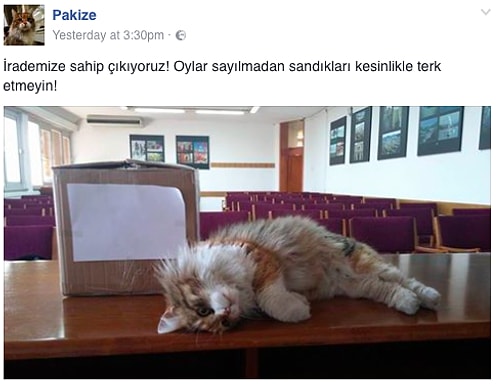 "Let me take you to our first stop, the Math Department. It has the tiniest cafeteria but it has the best carbonated tea and warm pogaca which is a delicious Turkish pastry that students sometimes are kind enough to share with me. If they don't, I attack them anyway. Muhahaha! I have my ways 😉 "
"When you get out of the Math Department, the library will be right across the cobblestone path. I have no idea why, but a lot of students stay over night there, studying. The amount of food they eat and the tea/coffee they consume would blow your mind! The quiet part is where I'm not allowed in, but I can enter and wander around in the group work section. I saw people studying, sweating, crying, fighting and even kissing! Telling you, they literally live here!"
"But one thing I like about these kiddos is that they also value friendship, chit chat and fun. They lay or sit on grass and talk. These kinds of groups are my favorites because they usually like to play with me or feed me. Their butt get all grassy and green afterwards, but they don't care, the sun light and the smart chat were all worth it, they think. Silly but cute."
"Before I show you my favorite part on Campus, let's stop on the way by the Physics Department. This is where Erdal Inonu was a teacher for a while and this another famous guy, Levent Ulgen, graduated from, with 4 GPA *gulp*. This department is basically where all cray crays are- just saying."
"Physics is a department that almost all Calculus takers must go to. When I stepped in to the A3 auditorium, I could see 250-300 students trying to understand Calculus on the board. They had the look of pain in their faces most of the time. Especially in the Prof. Sitki Irk's classes. Don't know why that was the case but their tortured faces looked really funny. Anyway, let's talk about most important thing now: Food. Physics cafeteria is where magic happens for me, because they have my favorite food, patso: a fries sandwich!"
"Their outside sitting area is actually quite fun. Because many Turkish people have the habit of smoking, they usually prefer outside and that works perfectly for me!"
"Alright, we are done here. After physics department, we take a very nice path with full of trees. Variety of trees create variety of smells here. Lovely, very nice smells around. But we are approaching to the most boring building on Campus. I gave you the fair warning!"
"I called this one a nice path because sometimes I see beautiful flowers here."
"Which one is the most boring building you wonder?…
The tallest building on campus: 'MM Building'. Students who want to go abroad with Erasmus come here a lot. I don't know the others. But also there is a sad story about this place, There have been many suicides reported at MM. Some students couldn't cope with the competitive environment and pressure. So, they jumped from the roof to death. It is really sad. Not a lot of people talk about it here."
"PS. I tried once but somehow I landed on my four feet. They should name me 'lucky' instead of Pakize"
"Ladies and gentlemen. Pakize proudly presents her favorite place on Campus: Yemekhane (Cafeteria) With its incredibly cheap prices, there is always a fixed menu with soup, main meal and dessert. When I used to hang out here I had gained 5 pounds but now I have a job, as you all know. And I'm a responsible cat. I have to run around the campus a lot, so thank God that's how I lost weight. But man, their food, especially the Keskul
dessert is just so perfect for my tummy"
"I will come back here after we finish our tour, it smells like fried chicken is on the menu today. Yum!… OK. Move on! If we take a right turn after the cafeteria, we'll see one of the most popular cafes on Campus: Çatı (pronounced as Cha-teh ) Their variety of food and awesome sitting area outside lead to long wait lines. But who needs a line when you are as small and cute as me? Hehehe"
"Just by this Cafe, you will see the 'Industrial Engineering Department whose design is not appreciated by its own students. Me, on the other hand, I don't care. Really. As long as I can sneak in through the open doors, the design is perfect for me. The students in this department are as generous as the other ones, so why would I care?"
"I have to mention my biggest enemy here since he hangs around this spot a lot. This silly dog keeps going around cuddling people on campus and stealing my food! I don't know his name yet but I named him 'deceiver'. Don't buy into his cute looks, he is a fraud, I'm totally real. Totally."
"There is a recent addition around here: a sculpture that I don't know of what. The only thing I know is that it provides a perfect shade for 4 hours in summer. do you think it looks like anything? I can't tell… Human beings are weird, they call everything 'art' these days"
"I would take you farther away but I started to feel tired so I will show you just a few more places then I will head back to the main cafeteria, if you don't mind *Grin* "
"So,here is the second most boring building on Campus!: The Registrar office. I have never, ever seen a student or an employee leaving this place with a happy face. They all look grumpy. So, I usually avoid bothering anyone around here. I suggest you the same. Signed by: A friend"
"Our upcoming stop is actually really fun. They sometimes hold very loud and fun events here. They are fun to watch, too. Sometimes some serious looking people come here to give important talks. I think the other day the president of Turkey came or something -well, I didn't go for personal reasons, I have heard not a lot of students attended , either. I'm curious why. But you know what they say: "Curiosity killed the cat" and I want to stay alive for at least 9 more years. Thanks! Anyway, this place is called the Culture and Convention Center."
"If you walk towards Çarşı, where the banks, restaurants, post office, stationery and copy center are, you will see this large, beautiful green wooded area first. It looks really pretty and usually this is the best place to hold a spot during the Spring Festival on campus (because they build a stage right in the middle for concerts) Its tiny pretty stream sometimes smells like dump, though. I'm just a cat, so I don't question things but that smell even cuts my apetite. Yuck!"
"And of course Carsi is the place we have to mention here, since it is the place where usually the shit happens – inner thoughts: "or in stadium? Or food engineering back yard? Anyway"- This place has everything from shopping to banking. They have a billiard cafe , where you can play pool,backgammon or chess. They have good kebab places plus some other nice restaurants and cafes. I would take you up to where dorms are now but as I said, I really need to go as I way passed my lunch time 😀 I'm heading back to cafeteria, if you don't mind. I hope you enjoyed this tour. If you ever happen to come and visit, please find me! I will be around the Faculty of Economics and Administrative Sciences . Chiaawww!"
Because Pakize was really hungry – which I can totally resonate with – she forgot to mention one of the best places in ODTU. I can't let you go before I introduce you to ODTU Stadium. More than the graduations, concerts, festivals and sport events it hosts, what makes this place even more special is the message it gives: A message from the students to the world.
This message was written on the stadium steps in 1968. It says "Revolution" and it gives a different message for everyone. Some claims it represents the founder of Turkey, Ataturk's positive revolutions on education, justice and social system. Some claims that this represents being against the status quo is not always a bad thing, Change is good if it is positive for the nation. Despite many attempts to erase it or paint it over, for some reason (obviously a smart combination of chemicals or application method) it remains to this day indestructible. Here is a picture of me standing in front of it. Mind you, taking a selfie in front of a stadium takes a lot of effort and so the letter 'D' didn't show itself very well. Not my fault!
I hope you enjoyed the tour of my university!
Hoscakalin!
-Ece Gurler