This post is about shiny things, global traditions and Jesus.
Also, automatically it is about me since my birthday happens to be on Christmas Day, December 25th 🙂
Most people celebrate the birth of Jesus Christ on December 25th and some on January 7th (For example in Russia). For some people, the night of 24th is the time of celebration (For most Catholics) and for the others, the celebrations including the church ceremony and dinner takes place on the 25th.
Although Christmas is a Christian holiday, today it is more cultural than religious and it is celebrated by billions all around the world.
Weirdly enough, in a Muslim country like Turkey, Santa Claus and Christmas decorations are figures for New Years, since we do not celebrate Christmas. Santa Claus' Turkish name is Noel Baba (Father Noel) and his pictures, toys and sculptures can be found in every mall and around the city during December.
Before I talk about Christmas in the USA, I also want to mention how it is observed in other countries.
In Korea, Christmas is a national holiday, but they don't celebrate it as a family holiday. It is more of a romantic one, like Valentine's Day.
In China, one tradition that is becoming popular, on Christmas Eve, is giving apples. Many stores have apples wrapped up in colored paper for sale. People give apples on Christmas Eve because in Chinese Christmas Eve is called "Ping'an Ye" (平安夜), meaning peaceful or quiet evening, which has been translated from the carol 'Silent Night'. The word for apple in Mandarin is "píngguǒ" (苹果) which sounds like the word for peace.
In, Brazil, devout Catholics often attend Midnight Mass or Missa do Galo. The mass has this name because the rooster announces the coming day and the Missa do Galo finishes at 1 AM on Christmas morning! On December 25th, Catholics go to church, but the masses are mostly late afternoon, because people enjoy sleeping late after the dinner called Ceia de Natal or going to the beach. These pictures are from Rio De Janeiro on Christmas Day:
The United States of America has many different traditions and ways that people celebrate Christmas, because of its multi-cultural nature. People in America like to decorate the outsides of their houses with lights and sometimes even statues of Santa Claus, Snowmen and Reindeer.
Do you want to see what these lights and statues? Here are some pictures.
Some cookies and glass of milk are often left out as a snack for Santa on Christmas Eve! Christmas Carols and making ginger bread  houses are also among American traditions. Families buy Christmas trees and decorate them together. Stalkings are hung buy the fireplace and gifts are left under the tree. First thing on Christmas mornings, kids open their gifts and after the church ceremony they come back home and enjoy the feast. Although it is called dinner, it susually starts anywhere between 12:00 PM- 2:30 PM on Christmas Day and Turkey is a classic member of the Christmas dinner.
In the US, The holiday season starts with the Halloween Day, October 31st. Thanksgiving is the last Thursday of November and then Christmas is on December 25th. Every store will have holiday-themed everything. People shop like crazy.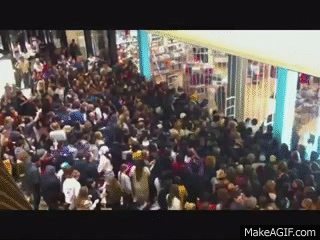 Due to Christmas gift shopping frenzy, the days like 'Black Friday' and 'Boxing Day' were born. Black Friday is the day after Thanksgiving in the US and everything is on sale, so people line up (or beasically camp) in front of the stores from the early morning hours. Then they litterally run in the stores when the doors open. Boxing Day (in the UK) is the day after Christmas,  It is a time when shops hold sales, often with dramatic price reductions.
On Christmas, you HAVE TO buy a gift and gift cards are a big tradition in the US. So you have to get a card together with your gift. There are many creative and fun cards out there but they can be as expensive as your Christmas gift! Honestly though, I still find the gift cards waste of money since you only look at them only once.
One thing that amazes me in all this, is the beauty of the gospels and Christmas songs. I have attended many church services and some Bible studies in Kansas before. I don't consider myself as a religious person (Especially after seeing religion bringing more harm than good to people these days) but I love studying the cultures and they come with religion. Although I was from a Muslim country, I always felt welcomed by the people at the church. They were always so kind and positive not only to me but also to each other. It has been amazing to see how they enjoy their worship when they are singing together, united, with one love: Love of Jesus Christ.
With their simple but powerful lyrics, but most importantly wonderful melodies, here is my favorite five gospel songs. It is hard not to enjoy these no matter you are Christian or not. I also tried to choose the best versions of them. Hope you enjoy!
Number 5 – Hallelujah
Number 4 – Mary Did You Know
Number 3 – O Holy Night
Number 2 – Amazing Grace
Number 1 – Awesome God
PS. if you haven't seen this video below before, please watch in order to see how important the Christmas gifts are for American kids. This video is hilarious.